Growing Size Of Coaching Profession
"Everyone needs a coach. Every famous performer has somebody who's a coach, somebody who can watch what they are doing and say, 'is that what you really meant', give them perspective. The one thing people are never good at, is seeing themselves as others see them. A coach really really helps." ~Google CEO Eric Shmidt in an interview on CNN.
World wide there is a perception of coaching as a profession. There are now over 47,500 coaches worldwide and this profession is generating revenues of over 2 billion USD globally and is expected to have an increase in demand for coaching services as well as in revenues in the coming years. There's been a rapid growth in this profession in Eastern Europe & Asia.
The biggest threat to this profession comes form individuals calling themselves coaches, who in fact are not qualified, credentialed or in fact in any way trained to be coaches.
The biggest opportunity lies in making the public aware of what are the advantages & benefits to be obtained from coaching & looking at the return on investment by those who are taking part in the coaching profession.
Continue reading below for the research findings on coaching as a profession or click here to read why NLP based ICF Coach Certification makes so much sense.
Research Findings
In 2007, the coaching Industry in the USA was generating US$2.4billion of revenue and was growing at about 18% per year, making it the fastest growing industry behind information technology.
~Praxis Paper 14: Coaching and Mentoring for Leadership Development in Civil Society, INTRAC 2007, p. 9
Among the findings in a 2008 research by the American Management Association (AMA), it stated that coaching continued to gain in popularity and coaching's international future looks bright. Among respondents who said their organizations did not yet have coaching programs, a sizable proportion (37% in the North American sample and 56% in the international sample) said such programs will be implemented in the future.
~AMA. Coaching: A Global Study, p.vi
By 2009, an estimation of up to 50,000 coaches were operating worldwide in 85 countries. Coaching has entered maturity on the product-life-cycle stage in only 2 countries while in no country it is in decline. With more than two thirds of all the coaches based in the European Union, USA and Canada (representing just 13% of the world population) and 80% of all business coaches of the world in Europe, North America and Australia (representing just 20% of the world population), there is certainly a potential for growth of the profession in the other countries.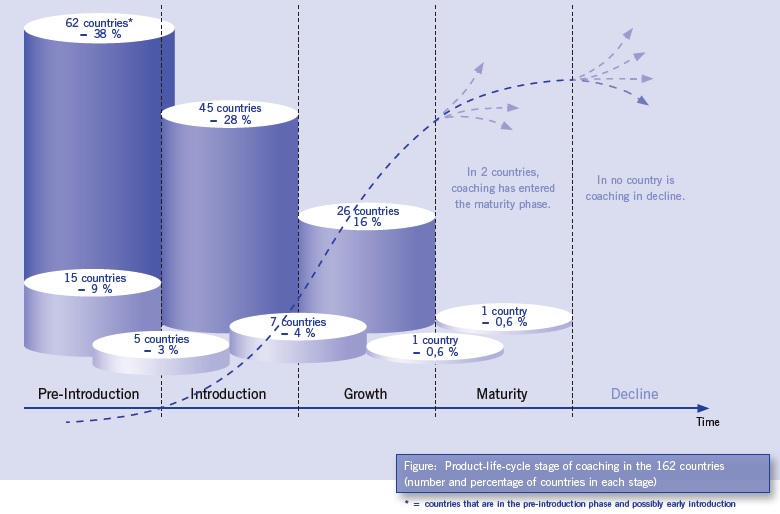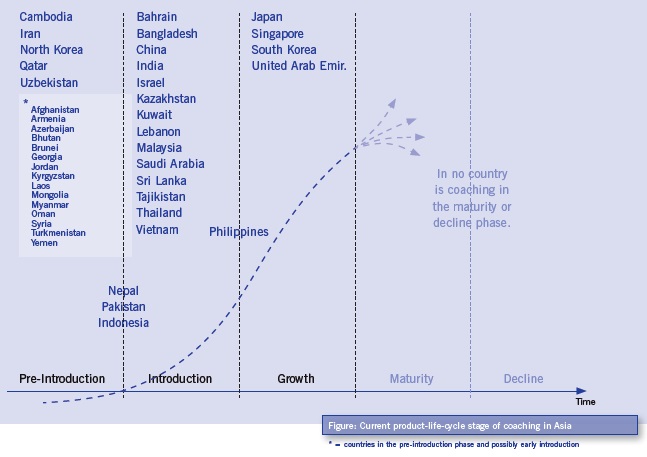 ~Frank Bresser Consulting, The State Of Coaching Across The Globe: Results Of The Global Coaching Survey 2008/2009 (August 2009), p.29.