How to get more out of your teams when they have already given all that they have and then some more?

If you are a CEO / Business Unit head, you are already facing the challenges of the global economic turmoil and are under constant pressure to increasing deliver more & more with less & less. Just to list a few of the business challenges you face:
Increase revenues


Simultaneously reduce costs


Increase profits


Increase margins


Do this Q on Q, Y on Y
Needless to say, you expect your teams to deliver more & more from less & less , if you have to meet your business objectives.
But here is another reality:
Your teams complain they are already delivering at their maximum


They claim they are already giving 10+ hours to their work


Their commute consumes another 2-3 hours


They complain of no time left for their personal lives


Some of these individuals might be going through crisis in their personal lives & you might not know anything about it
You need to realize, there is a cost to not dealing with this...
If you don't do something, anything about it, it just gets worse.
What most people do to increase productivity so that the team delivers more with less, is to put more pressure, organize productivity trainings, relieve someone from his/her responsibilities because he/she could not perform to the expected level, hunt for new hires (internally or externally). But for the most part, while it may work in the short term, reality is, it never works in the long run & you find yourself in the very exact situation, having to do the very same thing, time & again. Fact is, this approach does not work because:
Putting pressure when they are already under a lot of pressure reduces their productivity, efficiency, effectiveness & results


Most productivity & motivation trainings fail to address the underlying root


Holding someone accountable/responsible for not delivering only promotes a culture of blame-game & spread fear & panic


Hiring new individuals does comes with its own associated costs & risks
And what happens if you just do nothing or keep doing what you have been doing?
You keep facing the same issues; you get unhappy employees who are dissatisfied & disengaged.
Don't believe me? Check out the SHOCKING gallup statistics - a staggering 87% of employees worldwide are either not engaged or actively disengaged.
So how Do You Unleash Their Productivity...?
How do you get your teams to deliver more with less so that your business results are achieved?
Surprisingly, the answer to this is simple. It is in recognizing patterns of thoughts, feelings and behaviors & tuning these patterns.
About Me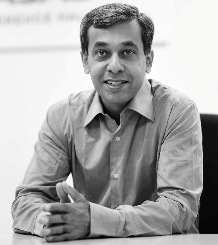 Firstly, let me tell you a little about myself. I am Anil Dagia.
I have been in the area of coaching & personal transformation for over a decade & have trained/coached over 10,000 people from across 15 nationalities including but not limited to Americans, Australians, British, Canadians, Dutch, Egyptians, French, German, Spanish, South Africans & many more.
Since then I have been a trainer and a coach to many CEOs of large companies as well as Managing Directors and business owners of several large and SME organizations. Many of them were in similar situations like you.
The one thing that I found most crucial is to recognize that:
Your employess need to live their lives - LIVE THEIR LIVES!!!
The notion of work-life balance is a myth. Work is not separate from life. Work is a part of life. If they don't have a life – how will they have work? Think about it!
They need to master their psychology, their mindset!
What do I mean by master their psychology?
What I mean is that in order to navigate through life, people need a certain set of skills. But much before they can use these skills, they need to master their state – their physical, emotional & psychological state. They also need to master their beliefs. Let's face it, if they are carrying a lot of negative or limiting beliefs, skills aren't going to be that useful, are they?
You also need to master your beliefs. Let's face it, if you are carrying a lot of negative or limiting beliefs, skills aren't going to be that helpful, are they?
Design Your Life
Design your life program is a high energy, high impact program designed specifically to create transformation experiences for people to become a master of their lives & destinies.
During this experiential program, participants experience:
Deep internal shifts


Challenge their limiting beliefs & achieve breakthroughs


Develop mastery over their physical, emotional & psychological states
And having experienced this transformation, people are finally able to – LIVE THEIR LIVES!
The program achieves this by taking the participants through an exploratory journey of reflection & self awareness while maintain extremely high & peak levels of energy throughout the program. They program also contains:
Thumb rule to measure your life fulfillment quotient


Impact of physiology on state


Negative self-talk & why it matters


How to direct your self-talk


4 types of questions that affect your focus & hence your state


Proximity effect – what is that & why you should care


4 types of limiting beliefs


4 questions to challenge your own limiting beliefs


End of day breakthrough experience
All of these things are crucial ingredients necessary to master your life before you can even dream of being able to deliver more with less.
Productivity, effectiveness, & efficiency – all can be supercharged once you begin to master your life with the tools & experiences gained from this program.
The program also focuses on imparting the following skills that will radically transform their performance at work & in life in general leading to outstanding results:
Super charged results setting process that deciphers why people do not achieve their results & how to overcome that


Magical connect – Simple & extremely effective ways to build rapport which you might have gotten all wrong


Language of the mind – find out the common mistakes people make during communication when you think you are speaking the same language but are actually speaking different languages of the mind


Power Questions – how recognizing & clarifying 2 things can dramatically eliminate errors & misunderstandings


Results Clarity Model - for razor sharp results definition that automatically creates the roadmap to achievement
All of this comes as part of this unique Extended 1 day, high energy, high impact program called – Design Your Life!
This program will unleash the productivity from your already maxed out teams, so that you can achieve your business results to increase revenues, reduce costs, increase profits & margins.
It's Decision Time...

You can have a new team - the same old people but a whole new outlook with a brand new life, team full of enthusiasm & energy.

All you have to do is to invite me for a no-risk, no-cost discussion about your challenges & proposal on how this program meets your specific needs. My team will take end to end responsibility for executing this program so that you can focus on what's more important to you - Your Business!
This email address is being protected from spambots. You need JavaScript enabled to view it.
This email address is being protected from spambots. You need JavaScript enabled to view it.