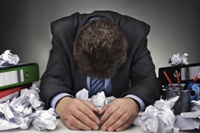 Didn't Get That Promotion Even Though You Know You Deserve It More Than The One Who Did ?


Didn't Get That Salary Increment Even Though You Had Earned It?
So How Come You Lose Out While Other "Less Deserving" Are Moving Ahead ?
EMOTIONS !
The Science Of Understanding Your Own Emotions & Of Others At Work !
Those Who Can Understand & Work With Emotions Are Better Negotiators ! - Harvard Business Review
Leaders At Higher Positions Have To Be Willing To Move Through Shame , Embarrassment , Anxiety & Fear !
Higher Position Roles Require You To Be Capable Of Feeling Awkward & Uncertain and Yet Not Give Up ! - Harvard Business Review

EMOTIONAL FITNESS GYMTM
Contemporary Research In Affective Neuroscience & Neuroplasticity Has Proven

- You Can Teach Your Brains To Focus Attention Better
- Develop Emotional Strength, Fitness & Endurance
- Develop Immunity To Emotional Viruses To Facilitate Rapid Recovery
- Your Thoughts & Behaviors Affect Your Gene Expression
Neuro Plasticity - A Neuroscientific Approach

- Your Brain Changes In Response To Your Experience, Your Action & To Specific Training You Engage In
- Your Brains Systems Of Tension & Emotional Regulation And The Ability To Generate Positive Feelings Are Trainable
- You Can Develop The Ability To Manage Emotions & Concentrate
- You Can Develop Emotional Strength
Why You MUST Attend

- To Phenomenally Improve Your Response To Challenging Circumstances
- To FOCUS On Your GOALS
- To Develop & Retain PEAK ENERGY Levels For Your BEST PERFORMANCE
- To Bring About Long Lasting Personal Transformation
- To Have A Happier & More Fulfilling Personal & Professional Life
- To Reduce Biological Symptoms (like BP, Diabetes, Asthama)
- To Experience Some Of The MOST POWERFUL SCIENTIFIC TOOLS PROVEN BY NEUROSCIENCE
- To Experience Exercises, Activities & Content NOT Available In Any Other Training
Personal Benefits

- Energized & Fitter Mind And Body
- Improved Relations With Self & Others
- Feel Good
- Balanced Emotional State Of Mind
- General Sense Of Happiness & Well-Being Leading To Better Health
- Negative Emotions Like Anger, Frustration, Irritation Reduced Or Even Eliminated
Organizational Benefits

- Better Organizational Results – Work Performance, Decision Making, Creativity, Employee Turnover, Teamwork, Negotiations, Leadership
- Improved Productivity & Efficiency
- Improved Collaboration & Reduced Conflict
- Develop An Emotionally Healthier Work Environment
- Reduced Tension & Better Work Life Balance
Why This Workshop

- All Day Involvement - Technique based
- Based On Contemporary Research As Near As 2011 Instead Of Ancient Studies From 1990 & Prior
- High Impact, Results Oriented, Realistic & Relevant Methodology
- Practical Tools & Techniques To Take Away With You Forever
Who Must Attend

- People Who Take Life Seriously Enough To Understand That Greatest Success Can Be Achieved By Having Total Command Over Your Emotions
Author - Anil D Dagia, NLP Trainer member of ANLP, UK, Foremost NLP Trainer in Mumbai & Pune (India).
© Copyright 5th Element 2014, Pune
blog comments powered by

Disqus